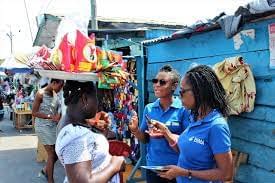 Case Study
At the frontline of COVID-19 in Ghana: BIMA
In a year when 55,000 Ghanaians were recorded contracting the coronavirus, easily accessible health and insurance services were needed more than ever.
In response, mobile-technology insurer and health services provider BIMA stepped up its activity to be an even stronger force for positive impact. By launching an in-field service, financially supporting policy holders and offering free consultations, it worked to expand services and protect Ghanaians in the face of the virus.
BIMA targets underserved families that typically live on less than $US10 per day and are at high risk of illness or injury, with 75 per cent of its customers accessing insurance services for the very first time. It designs its services to be as easily accessible as possible. Customers can register for BIMA products in just two minutes through a paperless process and pay from just $0.3 per month through their mobile device, to be covered in case of hospitalization, accident or loss of life.
In a year when COVID-19 dominated it took an extra step to reach disadvantaged customers in Ghana with its 'claims on wheels' initiative where BIMA-branded vans travel three times a week into the southern urban areas of Accra, Kumasi and Takoradi — where customers mostly reside — to provide re-education on the insurance policies and enable customers to claim without having to travel to a BIMA office.
This work in Ghana was recognized by the awarding body of the Ghana Insurance Awards in 2020, where BIMA won the claims initiative award. It also picked up the mobile insurance leadership award for the third consecutive year.
"We are particularly proud to win the claims award for our 'claims on wheels' initiative. Claims is the moment of truth for insurance providers and we believe that having our claims team travel into our customers' communities and process their claims on the spot is a great way to create trust and battle the idea that claiming is necessarily a long and painful process," said BIMA Ghana country manager Damien Gueroult.
Soon after the pandemic began to affect Ghana, BIMA announced that it would offer ¢500,000 (Ghanaian cedis) to certain policyholders to buy preventative items such as face masks and sanitizers to help stop the spread of COVID-19.
"As Ghanaians are going through tough times during this pandemic, we felt we had to do our part to ensure our customers have the means of protecting themselves with the appropriate preventive tools," said Gueroult at the time.
"With this monetary support which in normal times can only be paid when prescribed medicine or referred to a laboratory, customers are able to buy a good reusable mask and a bottle of sanitizer."
It also made its BIMA Doctor service free of charge across May and June, providing customers easy access to qualified doctors over the phone without having to visit a clinic or a hospital.
BIMA believes that this service can play a big role in relieving some of the pressure on the health system in Ghana, especially when it faces the stress of a pandemic.
Now in its tenth year, BIMA currently reaches more than 6 million people across Asia and Africa. In September it announced a raising of $US30 million – including from LeapFrog – to continue to expand its product offering, scale its capabilities as demand continues to increase and deepen its footprint in Asia and Africa.
Byron Smith