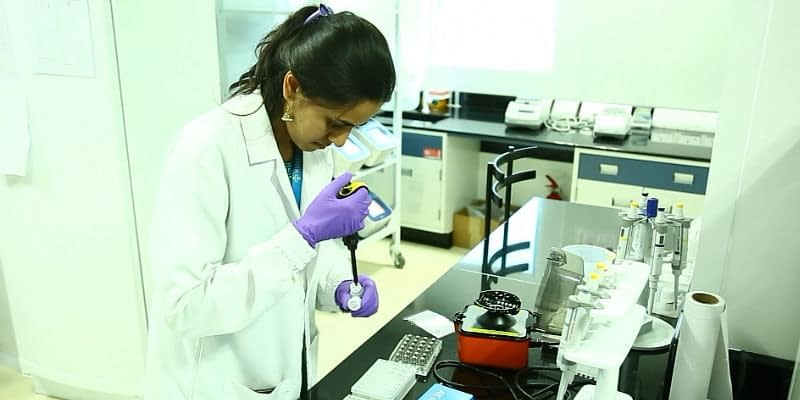 Case Study
Bringing the health benefits of genetics to India: MedGenome
How MedGenome assesses its impact
In its diagnostics work and by increasing the diversity of genomic datasets, MedGenome is making medical treatments more tailored and relevant to millions of emerging consumers and reducing the burden of non-communicable disease, at lower costs.
The business measures its impact by tracking key indicators of performance in four areas: the scale of people reached, quality of products offered, affordability for low-income consumers, and good governance standards.
From a scale of impact perspective, MedGenome processed 90,000 samples in 2019, with 99 per cent of these coming from unique customers. It expects to reach about 300,000 customers by 2025 and expand testing into India's smaller towns and cities, as well as South-East Asian and African markets. At a macro level, MedGenome is first to provide access to new genomic tests including NIPT, PGS, Clinical exome, Microarray, HLA typing, and MLPA, and will continue to shape genomics across India.
In terms of product quality, MedGenome is best in class and has strong internal clinical quality measures, with a two-step quality check at each stage of the diagnostic journey. Its processes have received third-party certification in line with global standards and it holds national and international best practice accreditations, such as US CAP accreditation, CLIA and ISO 15189 certification.
In terms of affordability, MedGenome ranks highly as well. Pricing of genetic tests offered by the company has been continuously reduced over the years. Keeping in mind the affordability of consumers, patients only pay full price for the first test conducted and all additional tests are discounted. In addition, test prices are expected to decrease approximately 5 per cent each year, increasing affordability. MedGenome has also provided over 20 per cent of diagnostics tests at deep discounts (more than 50 per cent) or even free of cost for underprivileged patients.
In terms of good governance, MedGenome adheres to best-practice governance standards and is regulated by US CAP and NABL requirements for clinical quality governance. It has a social and ethics committee and hires highly skilled professionals and train them according to international standards. At the end of 2019, about half of the company's staff was female.
Assessing the impact on the customer's life (via direct interviews and studies) is the next avenue of impact measurement for MedGenome. Anecdotally, it knows customers deeply value the ability of tests to shed light on critical medical illness being faced by them or their family members.
Roshni Bandesha is an associate director at LeapFrog's Impact Labs, a research and development hub for our partner businesses.