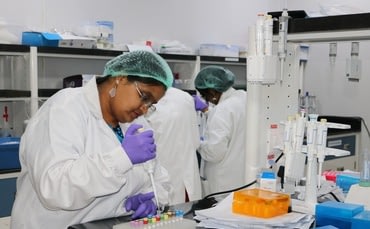 Case Study
Taking a critical role in India's COVID defense: MedGenome
When the coronavirus pandemic hit India, diagnostics and pharmaceutical research company MedGenome rerouted its expertise and resources to offer solutions across the country.
Working with public health authorities, MedGenome began testing for the COVID-19 virus, developed an antibody test kit and researched what genetic predispositions would likely lead to chronic infection.
It was a much-needed response to what became a severe rate of infection in the world's second most-populated nation in 2020. COVID-19 cases rose to a huge spike in September but continued falling to the end of the year to about 20,000 cases and 300 deaths a day (before escalating rapidly in the second quarter of 2021). Throughout 2020 there were more than 10 million confirmed cases – still among the very worst in the world, according to World Health Organization data.
By December, MedGenome had conducted large-scale molecular testing to understand the spread of Covid-19, and completed approximately 50,000 COVID-19 tests, after becoming one of the few labs empaneled by the government to do so.
A COVID-19 test kit to detect antibodies was developed and submitted to the Indian Council of Medical Research for regulatory approval, at which point MedGenome planned to begin global sales.
And early in the year it led research, with partners, into what genetic predispositions made certain patients more likely to be impacted severely by COVID-19.
In a widely reported breakthrough it found certain genes made people more susceptible and began "discussions with pharma partners to advance their drug development work with genomics insights and capabilities, in particular in the context of this COVID-19 crisis", MedGenome president Sam Santhosh explained at the time.
One result of these efforts was the company's shortlisting for The Economic Times startup awards 2020 for healthcare innovation. And chief executive officer Vedam Ramprasad was named one of the top 25 healthcare technology CEOs of Asia for 2020 by The Healthcare Technology Report.
Another result was that the rapid learnings about infectious diseases strengthened MedGenome's ability to better tackle non-COVID issues, with Ramprasad stating in August that "with an infrastructure for rigorous Covid-19 testing, contact tracing and addressing the stigma, there is a comparatively smoother way paved for duplicating the efforts in tuberculosis as well".
The company bulk ordered supplies to make sure it could maintain testing services in case of disruption, as well as making alternative delivery plans to be used if needed. It further deferred non-critical expenditures, raised funds, and looked for more lab sites to ensure continuity of operations.
LeapFrog invested in MedGenome in March, seeing it as a compelling investment due to significant depth of impact driven by improving access to essential diagnostics in emerging markets. Since then, the investment has enabled it to expand access to, and affordability of, its genetic testing services across India, and begin offering diagnostic services further in Asia, eastern Europe and Africa. It will also allow MedGenome to accelerate its drug-discovery programs that could significantly impact the treatment of cancer and cardiovascular diseases.
Byron Smith