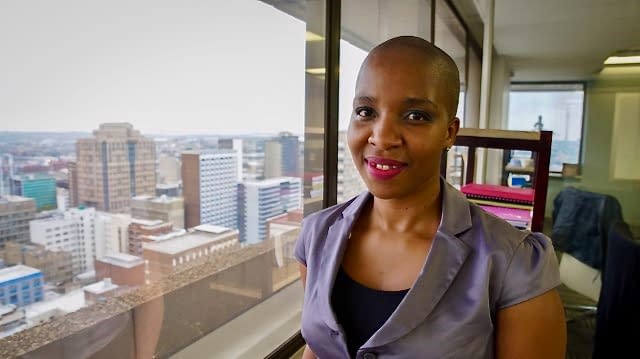 Case Study
Portia 'breaking down South Africa's walls of HIV stigma': AllLife
Portia, 30, is a proud aunt, sister, daughter and mother of three. Her journey started with AllLife in 2009 when she first took out a life insurance policy as a client and in 2014 she started working for AllLife.
AllLife is a South African company turning the life insurance customer model on its head. The innovative company offers affordable life cover to people living with HIV, people who once were automatically excluded because they carry the virus that leads to AIDS.
Portia, who was diagnosed HIV-positive in 2005, first came across AllLife on TV. She says she saw the AllLife advertisement at precisely the right time. She'd been working for a couple of years and had accumulated some savings, which she wanted to put towards a home for her mum. Portia needed a small loan to bridge the financing gap. She knew she needed life insurance to obtain a loan, but was having trouble finding a life insurer willing or able to cover her due to her HIV status.
That all changed when AllLife lit up her TV screen, advertising comprehensive, full-death cover for people with HIV.
Portia was intrigued. She sent an SMS to the number on the screen and within 48 hours a member of AllLife's qualifying team called her back. In less than one hour Portia was approved for life insurance.
"It was such a simple, speedy and easy-to-understand process," she recalls. Portia also found the experience empowering. "I hadn't been very vocal about my HIV infection before then," she reveals. "But I felt immediately at ease speaking with the AllLife team. They were so welcoming, and I felt like I was speaking to my family."
Soon after, Portia was connected with AllLife's adherence department, which helps clients manage their health. Their work is integral: within six months of being insured, AllLife clients see a 15 per cent increase in CD4 count, an immune system marker.
Portia successfully obtained a home loan, and found the perfect home for her mum. Inspired by her experience with AllLife, she later applied to join the company.
At AllLife, working in its adherence department, Portia is seen as a beacon of success to many of her clients and colleagues alike. Outside of work, Portia is an aspiring writer, artist and singer. She is passionate about living her best life and breaking down the walls of HIV stigma. "AllLife shows you that having HIV is not a death sentence," she says. "AllLife backs people to live — and I'm living proof of that."
Clare Furlonger
Learn more
AllLife is one of many LeapFrog investments in Financial Services. Learn more about our work in the sector.