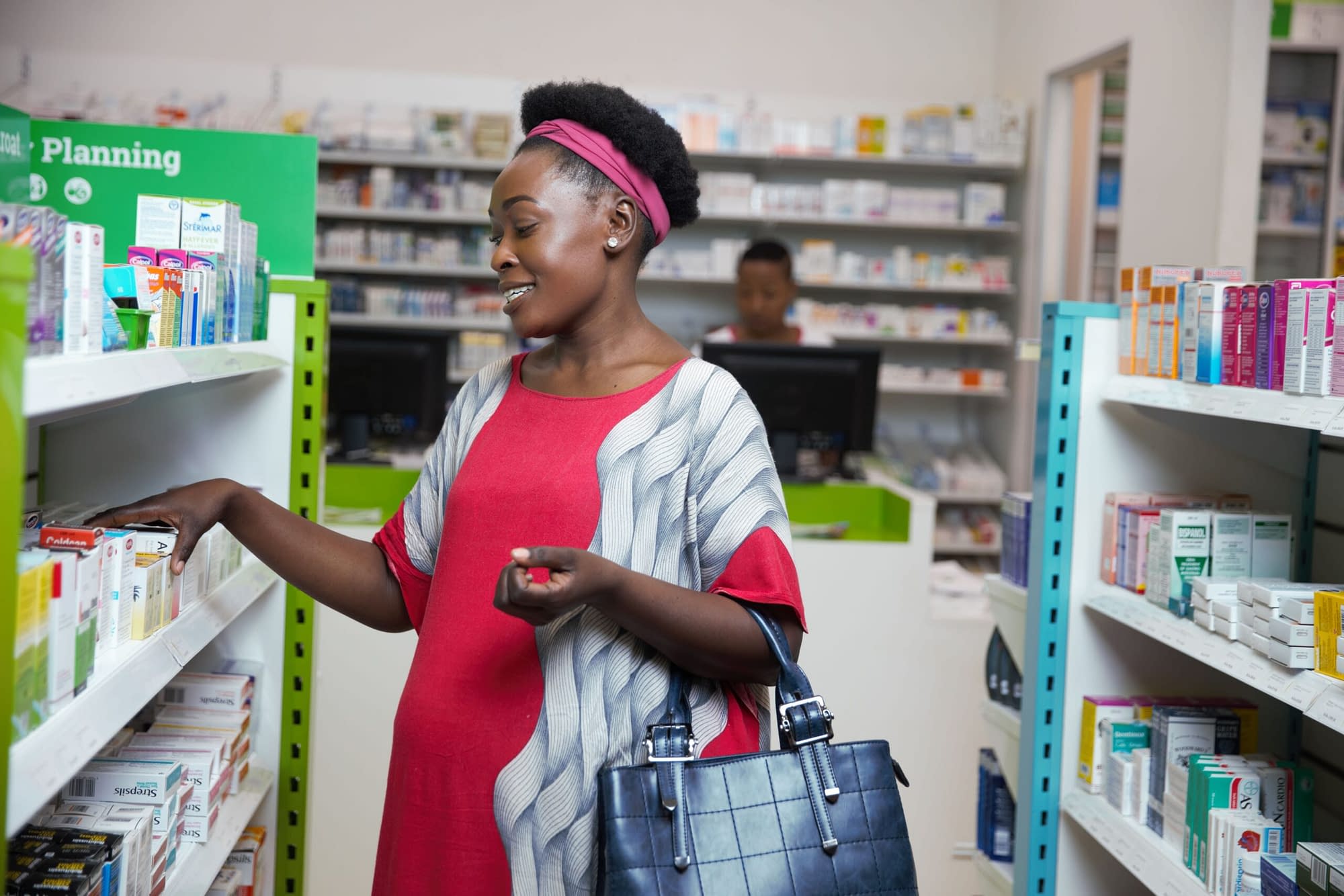 Goodlife Pharmacy
East Africa's health hub for low-cost healthcare
1,900,000

0
People Reached
Goodlife has quickly grown from a healthcare startup to East Africa's largest pharmacy chain and top primary healthcare provider, reaching 1.9 million people across more than 100 outlets. The company has reinvented an infrastructure-light, modular, and localised model for healthcare delivery in emerging markets.
Goodlife is focused on increasing access to affordable over-the-counter and prescription drugs as a trusted brand that competes with informal retailers often selling counterfeit medicines. In 2022, LeapFrog partially exited the business to Eurapharma, a Toyota Group-owned pharmaceutical leader in Africa.
The Problem
The Problem
3 WHO, Kenya Risk of Premature death due to NCD, 2016 4 Office of National Statistics, Leading UK Causes of Death 2011-2018 5 WHO, Kenya Risk of premature death due to NCD, 2016 6 Ibid 7 UNODC,
Falsified Meds West Africa, 2021 8 WHO, A study on the public health and socioeconomic impact of substandard and falsified medical products, 2020 9 Ibid 10 IFAD, Investing in Rural People in Kenya, 2018 11
Kenya Demographic and Health Survey, 2014
East Africa suffers from high mortality rates for many easily treatable and preventable diseases. In Kenya, 54% of deaths are attributed to communicable diseases such as HIV, Tuberculosis, Malaria or maternal and nutritional conditions3. In comparison, communicable disease accounts for less than 1% of deaths in the UK4. Quality, affordable pharmaceuticals, and access to basic health care services, are critical to reversing this trend.
Chronic disease is also rising across the region. Non-communicable diseases (NCD) mortality rates are forecast to increase to 55% by 2030, attributable to lifestyle factors such as tobacco use, physical inactivity and poor diets5. NCDs cause significant economic impact on Kenyan households, decreasing household income by 28.6%6. Separately, an estimated 30% of medicines sold in parts of Africa are substandard or falsified medical products, while counterfeit antimalarial drugs are responsible for up to 270,000 additional deaths per year in sub-Saharan Africa7.
Counterfeit medicines traditionally thrive where there is limited public health insurance, lax government monitoring, and low incomes8. This black market has additional pernicious effects such as an overall loss of confidence in medications and the public health system9.
In addition to unreliable pharmaceuticals, many emerging consumers in East Africa also face significant barriers to accessing medical services like diagnostics, nutritional advice, and other medical consultations. Around 75% of the population of East Africa live in rural areas, making travel to major hospital centres a challenge for the majority of people seeking treatment10.
Cultural factors can also limit access to medical treatment, especially for women. In Kenya, 11% of women aged 15-49 say not wanting to travel alone deters them from accessing treatment11. Behind these problems are a range of issues relating to the lack of transparency of medical supply chains, the seemingly insurmountable costs of delivering infrastructure-heavy medical facilities in rural areas, as well as cultural norms and security concerns around travel. These quality and access issues demand innovation and new healthcare models.


Goodlife's Solution
Goodlife's Solution
12 Goodlife Pharmacy, Rethinking Pharmacies: Beyond Pill Pushing, 2016 13 Ibid
LeapFrog has backed Goodlife since 2017, fueling the company's expansion from its initial 19 stores to become the dominant pharmacy and health hub chain in East Africa.
In the process, Goodlife has revolutionised the delivery of pharmaceuticals and medical services to low-income consumers, using digitally enabled solutions to serve remote and peri-urban communities and improve the quality and consistency of treatment.
Goodlife currently operates over 100 stores in Kenya and Uganda, reaching 1.9 million people each year. The company is often the first point of contact for many emerging consumers seeking care, and to meet the needs of these people it has rapidly evolved its business from a traditional pharmacy chain into an omnichannel health-hub model. Goodlife stores now offer a range of traditional clinical care services like diagnostics, vaccines, medical consultations and nutritional advice. Much of these services are provided for free or at a cost which is significantly below the average KSh3,000 (US$26.37) doctor's consultation fee12.
Greater purchasing power through their network of pharmacies means Goodlife has been able to negotiate better contracts with its suppliers and lock in reputable supply lines, helping to eliminate the threat of substandard medications. The company buys the majority of its products from just a few wholesalers who they have built strong relationships with and who buy directly from established drug manufacturers such as Pfizer and Merck13.
Goodlife has also pioneered a unique product range, including single unit medicine sales, to create price points that compete with informal vendors like roadside medical stands. In the process, it is encouraging a new consumer segment to engage with pharmacies rather than informal, counterfeit vendors.
The company has launched an e-pharmacy platform with home delivery and a telehealth service, offering new access points for remote and regional people, or those facing cultural barriers that limit their travel. Goodlife aims to grow its store network to more than 250 by 2025.
LeapFrog has played a major role in Goodlife's transformation from a traditional brick-and-mortar pharmacy to an integrated health hub with dominant market share. On-the-ground experience has helped to reduce the capex cost of new store fitouts by half, aiding the rapid expansion of the company's network to 5x the initial footprint. Operations have also been optimised, to reach market leading gross margins, while break-even time of each store has been reduced substantially.
With our assistance, the business has strengthened its management team across IT, marketing, retail, purchasing and audit functions, implemented feedback from customer research, renegotiated supplier contracts, revamped its inventory management and refined its rental and store rollout costs to create a model that is replicable and ready to grow at scale.
Projects completed to date also include a redesign of the company's loyalty program MyGoodlifeClub, in conjunction with LeapFrog's CX Launchpad. The program now serves over 100,000 members, providing access to doctor consultations at one-third of the average market price.
In March 2022, LeapFrog made a partial exit of Goodlife to strategic investor Eurapharma, one of the largest medical wholesalers and distributors in Africa. This partnership will further strengthen improvements in suppy chain, pricing and quality.
Learn more
Goodlife Pharmacy is one of many innovative healthcare companies we have invested in. Learn more about our work with the company.