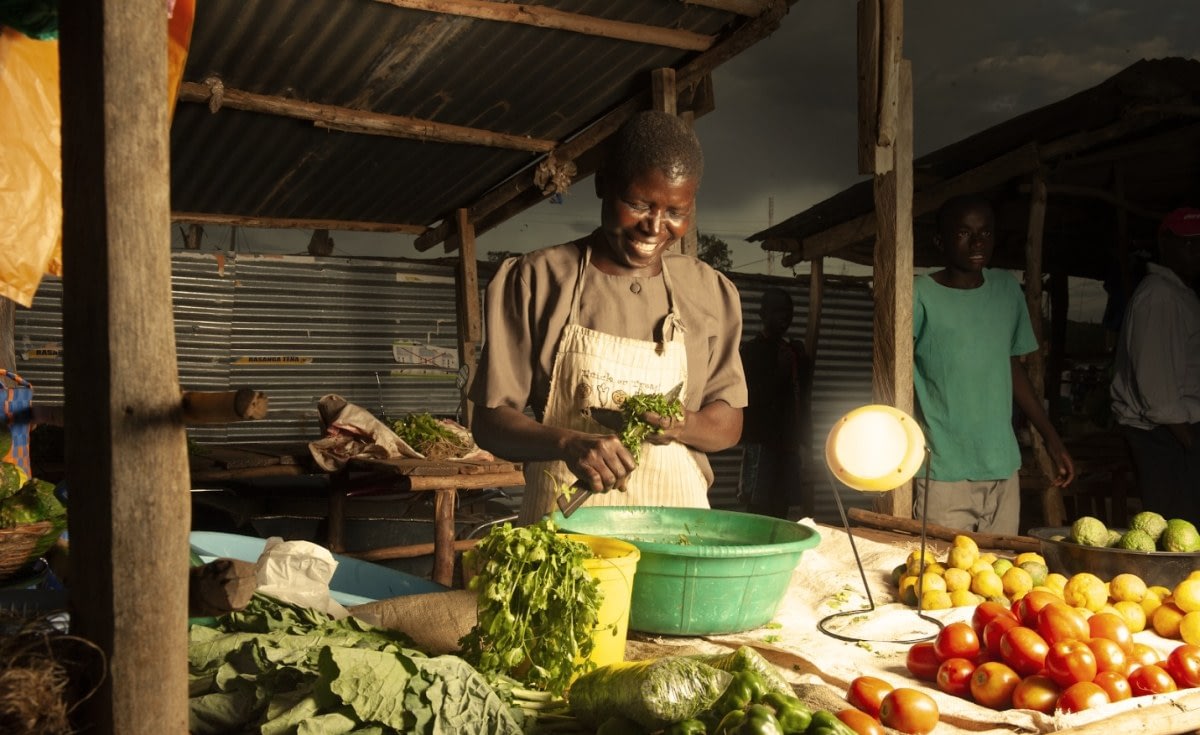 Press Release
LeapFrog plans to commit over $500m to climate solutions
LeapFrog Investments, the Profit with Purpose firm, plans to commit US$500m to companies combating climate change in Africa and Asia, providing green tools and technologies to 50 million low-income people.
LeapFrog made the announcement today at the US-UK Climate Finance Mobilisation Forum hosted by US Special Envoy on Climate John Kerry and UK Secretary of State for Energy Security Grant Shapps, aiming to support a transition to green technologies in emerging and low-income markets. The forum, attended by leading investors, companies and philanthropies including Dr Andy Kuper, LeapFrog's CEO and Founder, highlighted the urgent need to direct private capital to green initiatives in emerging markets.
Following the forum, HM King Charles III and US President Joe Biden joined the discussion to hear from participants the outcomes and commitments made.
Energy Security Secretary Grant Shapps said: "Helping emerging economies in Africa and Asia to tackle climate change is one of the only ways we will ensure children across the globe grow up on a planet that is fit and safe for them.
"I welcome LeapFrog's plan to invest in green technologies for developing nations, helping them not only to cut their emissions, but also deliver national and energy security as their economies continue to grow."
LeapFrog, a pioneer in impact investing across the emerging world, will target climate investments accelerating a green transition in the built environment, energy, mobility, and food sectors. By 2030, clean investment across these four sectors alone could help low-income markets to avoid more than eight gigatonnes of GHG emissions, and generate 90 million new jobs, per new internal modelling.
A compelling business case already exists for a wave of green investment across the emerging world in the next decade. LeapFrog modelling suggests multiple technologies in these sectors – from electric scooters in India, rooftop solar panels in Nigeria, to data-driven farming software in Vietnam – have now hit a price inflection point where they offer a 'green discount' of up to 30-40% less than incumbent carbon intensive alternatives. Coupled with accelerating advances in technology, and broadening regulatory support, this is driving a major reallocation of capital towards sustainable business models.
Still, while funding for these green businesses has grown 28% annually over the last decade in emerging markets, deal flow still represents less than 5% of the required ~$330bn annual investment to support a full transition to clean alternatives, presenting a compelling opportunity and critical challenge for private capital markets.
"Investing in climate solutions across emerging markets is not just the right thing to do, but also a highly compelling commercial opportunity," said Dr Andy Kuper, LeapFrog's CEO and Founder.  "In the next decade we want to act as a catalyst and enabler for billions of low-income consumers finding clean pathways into prosperity by accessing – via LeapFrog companies – sustainable, efficient products that both improve their quality of life and protect their environment."
"Climate is a global problem that capital markets need to approach through a global lens, and we urgently need to invest more in these countries if we have any hope of hitting the emissions reduction targets we have set for our planet," Dr Kuper added. "Our internal modelling paints a stark picture. India, Southeast Asia and Africa, which today represent 25% of global emissions, could account for as much as 84% of emissions by 2050 without urgent action, undoing any climate gains made in wealthy nations."
LeapFrog recently led a $70m investment round into Sun King, the world's largest off-grid solar energy company, which was started in Kenya and to date has provided 102 million people with clean energy access, saving households almost $6bn on energy expenditure and avoiding 27.9 million metric tons of CO2 emissions. LeapFrog will support the firm to reach even more of the 1.8 billion off-grid and under-electrified consumers in Africa and Asia over the next 5 years.
LeapFrog also anchored a $250m investment round for market-leading mobility platform, CarDekho, which is powering a revolution in two- and three-wheeler electric vehicles sweeping south Asia. Four million searches for electric vehicles are registered across its sites monthly, in a region where already the total cost of ownership for electric scooters is up to 30% less than traditional petrol alternatives.
About LeapFrog Investments
LeapFrog invests in healthcare, financial services and climate solutions businesses in high-growth global markets. Its companies deliver distinctive impact and robust returns, growing on average 24 per cent a year. LeapFrog companies now reach 451 million people in 30 countries. The firm has raised billions of dollars from global institutional investors, including a recent $500m commitment by Temasek to LeapFrog and its growth equity funds. LeapFrog has been ranked by Fortune as one of the top five Companies to Change the World, the first private investment firm ever listed. For more information, visit: www.leapfroginvest.com.
Media Contacts
Montfort Communications
Gay Collins: +447798 626282